The 2018 Northern Explore Series reached its conclusion on October 7th with the final round, the last of 7, taking place in breezy conditions at Tyne Amateur Rowing Club.
Completing its seventh year the competition is organized by the Northern Rowing Council and is aimed at novice and recreational rowers, those returning to rowing after a break, and racers who have retired from competition. It offers fun but competitive side by side racing in stable coxed quads or fours over a short course at selected venues around the region on the first Sunday of each month during the Spring and summer season, providing opportunities to visit Berwick, Tynemouth, Talkin Tarn and Hexham as well as the Tyne and Durham clubs.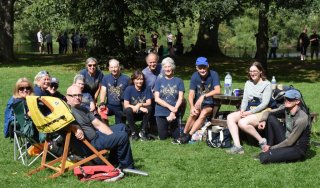 The winner's prize in the open league was presented to Barcing Mad from Berwick ARC (the club's first success in the event), while Tynemouth Buoys from Tynemouth RC were runners-up. The women's league has been a close contest all season between TURC Ducks from Tyne United RC and Tyne of your Life from Tyne ARC, and a victory for Tyne ARC in their head to head brought the two level on points, so it was agreed that the winner's prize would be shared.
After winning prizes in both competitions last season Durham ARC fielded scratch crews in each round of the open league this year, while Rock on d'Arc (consisting of Margaret Richardson, Maureen Miller, Linda James and Denise Greenwell, and coxed by Caroline Scholl), who only took part in the women's league from the third round onwards, failed to claim third place in the league by a single point.
The background to the Explore Series is explained on this page of the Northern Rowing website, on which the draft timetable for 2019 can also be found.
New teams are welcome to enter next year's competition which starts in March 2019.