Schools Head 2017 was certainly eventful, if nothing else; extreme winds and choppy conditions meant the race was shortened to about 1700m, finishing at the bandstand after Barnes Bridge. 3 crews were sent, and considering the conditions, coming back with 3 was a fairly impressive achievement. All crews performed extremely well in what was definitely the most challenging row that most of us can remember.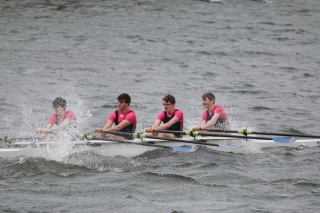 First to appear was the J17 quad, consisting of Harry Coe, Josh Stephenson, Matthew Skinner, and Matthew Edge, in their first outing on the Thames. Racing against mostly J18 crews, they were able to come 24
th
out of 42 entries, and setting a time of 5:47.0, which they'll be happy to tell you is over 10 minutes faster than the previous course record, even though that record is for the full course (don't remind them). Racing through some "absolutely massive" waves, some of which managed to make their way into the boat, made for good photos though.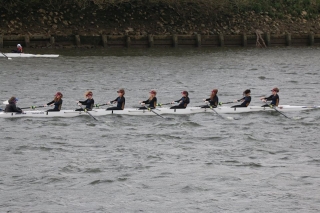 Next was the J16 Girls Eight, consisting of Alex Roberts, Abby Burke, Alannah Baldwin, Georgia Murphy, Elise Goddard, Bethan Hall, Izzy Wilkinson, Katie Strangward, and cox Becky Jackson. With "veteran" Tideway cox Becky at the wheel, the J16s were able to set a good time of 6:32.6, only 30 seconds behind National Schools winners Latymer Upper School.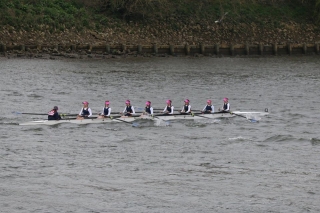 Finally, the J15s, consisting of Kate Henderson, Catherine Musgrave, Pardis Farakis, Millie McIntyre, Jess Cooper, Gabby Suggett, Mollie Coe, Honor Cessford, and cox Lily Sanderson. In their first race on the Thames, the J15s set a time of 6:38.7, only 1 second behind local-ish rivals Yarm School, and coming 17
th
in their event. Congratulations to all crews that went (for surviving, amongst other things) and hopefully next year we should see even better results, and get to row the full course!
(with thanks to Harry Coe for the report)