On October 31st 2016 Geoff Graham completed 60 years as a member of Durham ARC with a small celebration in the clubhouse.
Geoff has taken on innumerable jobs around the club over the years, having raced for the club, coached numerous crews and even helped to build the old clubhouse
As an oarsman he achieved success winning the Lady Herschel Plate for Novice coxed fours at Durham Regatta in 1963 and the Rushworth and Storey Cup for coxed fours in 1966, then, rowing as a pair with Bill Parker, winning the MacFarlane-Grieve Cup for senior pairs in 1968.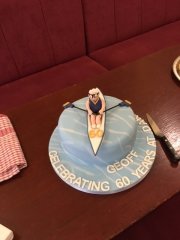 The Boston Marathon provided further notable successes including winning the pair in 1971 and 1973, and in 1974 being a member of the overall winning crew, a coxless four of GS Graham, WT Parker, J Hedley and JC Kenyon, then winning the fastest 8+ in 1975.
As club captain in 1982 he was able to report a then club record of 62 wins in open events, a total surpassed the following year with 72 wins thanks to a strong junior contingent. Eleven of these wins went to the ladies coxed four coached by Geoff, with a crew of A Lund, A Page, C Fraser, A Dawson and cox Tommy Maddison, including gold medals representing England at the Home International in Glasgow.
In recent times there has been much success with the women's performance squad including Gill Prescott and Helen McMillan.