On Saturday July 23rd ten of Durham ARC's daytime and masters rowers joined a party of around 40 drawn from 5 different clubs to take part in the first River Tees Tour.
Rowing tours are an aspect of the Explore Rowing programme that British Rowing encourages. This one has been in the planning phase for several years and formalising it marks a great achievement, following on from last year's exploratory visit by DARC rowers to Yarm.
Crews from Tyne, Durham, Hexham, Tees and Tynemouth Rowing Clubs assembled at the River Tees Watersports Centre in Stockton ready to embark on the 25km round trip to Yarm. Taking place under British Rowing rules required the use of stable Explore boats for the occasion.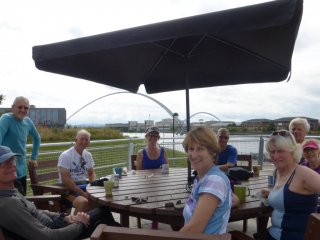 Warm greetings accompanied the warm sunshine and were followed by the consumption of bacon butties in preparation for the day's exertions. Each of the 8 crews (7 coxed quads and one coxed four) was issued with a tour brochure by organiser John Anderson, and after a safety briefing all boats were able to take to the water by 11am. A short paddle upstream saw crews reconvene alongside the Old Boathouse before embarking on the tour at their own pace.
Preston Park was the next pause to allow slower crews to catch up, before the flotilla continued as far as the twin bridges at Yarm, turning and landing briefly at the recently refurbished Yarm School boathouse before returning downstream, arriving back at Tees RC by 2.30pm ready for the feast of pulled pork sandwiches and cakes awaiting them. Participants were in agreement that the day was most enjoyable and should become an annual feature in the rowing calendar.
DARC crews included Helen Adair, Alison Shepherd, Alan Clark, Linda Forwood, Tony Speight, Colin Lawson, Margaret Richardson, Vaughan Gordon, Chris Merchant and Sylvia Bell.
Northern Rowing photos
With the popular Great Tyne Row now in its 6th year and the second River Wear Tour of Sunderland scheduled for August 13th it can only be a matter of time before rowing tours encompass all of the northern region's navigable rivers.