The 2015 Sunday League drew to a close at Tyne ARC on October 4th after a busy conclusion to the season due to the postponed Talkin Tarn skills round being slotted in two weeks earlier. With the Tynemouth round cancelled in May because of unsuitable weather conditions this meant only 7 of the 8 scheduled rounds were completed.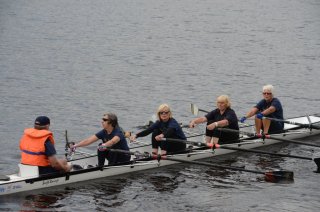 Ongoing renovation work on the Tyne ARC clubhouse meant outdoor catering for the day but thanks to fine conditions there was no dampening of enthusiasm for the 15 teams taking part. The winners of both the open and women's leagues had been decided prior to the final day but there was a close contest for the minor places. DARC Demons (Maureen Miller, Gene Dobson, Shirley Robinson, Debbie Jahangiry and Margaret Richardson) held on to 2nd place in the Women's section behind the winning Tyneapple Chunks team from Tyne ARC. The final round took the form of sculling splash & dash races over a 300 metre course. As usual there were some close races with Tynetanic holding off DARC Desperados by a foot in the final race to retain their half point advantage in the overall table. Up Tyne Funk from Tyne ARC remained unbeaten throughout the whole series, finishing as clear winners of the Open section ahead of Weary Old Gits from Chester-le-Street.
Trophies and prizes were presented to the winners and runners-up by Gillian Latham from the Northern Rowing Council.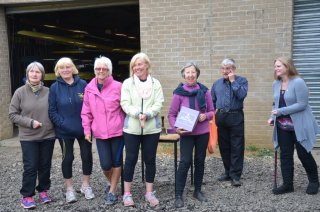 The 2016 series gets underway at Tyne United in March, with the first visit to a new venue at Berwick lined up for June.
The final league table is on the Northern Rowing website.
The format is increasing rapidly in popularity with similar Explore leagues starting up in the North West and Yorkshire, West Midlands and Thames Valley regions during 2015.
For more about previous years see the Sunday League page.