Durham Amateur Rowing Club had great success at the gruelling Boston Marathon held this year on September 20th. The Marathon route goes over 31 miles, or 50 kilometres, from Lincoln to Boston, initially along a canal and then on to the River Witham, the main problem apart from the distance being the amount of weed in the river.
Following on from an unbeaten year, winning every regatta they have entered, the masters D coxless quad of Julian Ringer, Richard Court, Paul Sowerby and John Lyons finished as the fastest crew of the day out of the 164 entered, and the overall winners of the event in a time of 3 hours 44 min 36 sec.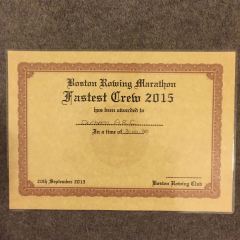 The two other DARC entries also performed well, with the women's masters B coxless quad of Sam English, Judith West, Christine Heppell and Carolyn Edwards winning their category in 4 hours 17 min 12 sec, and Hazel Stainforth in a women's masters F single scull completing the course in 5 hours 35 min 23 sec, racing up a category in order to have competition but beating the masters G course
record
that she already holds.