On Saturday August 8th thirteen members of the daytime and masters squads took part in the inaugural River Wear Tour, organised by City of Sunderland Rowing Club and the Northern Rowing Council. This was a 20km paddle along the Wear through Sunderland, with 11 crews, representing 7 clubs from the northern region, setting off upstream from the City of Sunderland RC in coxed stable boats and heading towards Washington Wetlands Centre, before turning with the outgoing tide to row down to Sunderland's National Glass Centre near the mouth of the river.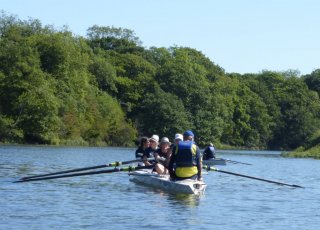 Glorious sunshine and scenery taking in wildlife, wrecks, country pubs, industrial heritage, iconic bridges and the Stadium of Light made for an idyllic trip, enjoyed by all who took part, with a few crews unable to resist the temptation to become rather more competitive than was intended.
Arriving at the Glass Centre there was time for a short rest and to pose for photos, before the flotilla turned again to head back upstream at their own pace for the final 6km, reconvening at South Hylton for a post tour BBQ.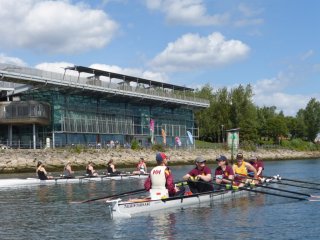 The tour looks set to be an annual event.
DARC tourers pictured above were Aisling Dutton, Clive Hole, Debbie Jahangiry, Sonny Shepherd, Linda Forwood, Gabrielle Moore, Colin Lawson, Shirley Robinson, Shona Miller, Ray Dominy, Kate Wicks, Vaughan Gordon and Kalpana Ganatra.
Northern Rowing provided more photos.