Six competitors from Durham Amateur Rowing Club, accompanied by Coach Geoff Graham, went to the English Indoor Rowing Championships held at The National Cycling Centre – Manchester Velodrome on Sunday 29th March.
Gill Prescott continued her unbeatable record by picking up 2 Gold medals in the women's 50-59 age category for the 2km and 500m races. Her time of 1m 41.5s in the 500m was a personal best recorded during a national competition.
Joyce Collett, new to national competition, produced personal bests of 8m 27.1s and 1m 55.8s to take 2 Gold medals in the women's 60-69 Lwt category for the 2 km and 500m races.
Roger Stainforth rounded off a highly successful season by picking up another Gold medal in the men's 70+ age category.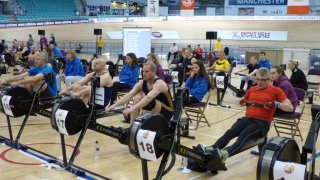 Gabrielle Moore, also new to national competition, took the Silver medal in the women's 50-59 2k race in 7m 52.3s.
Other strong performances came from Martyn Calkin who achieved his personal goal of completing 2k in under 7mins in the men's 50-59 age group and Helen McMillan who competed in a tough field of women in the 40-49 age group.
Pictured top (left to right) – Martyn Calkin, Roger Stainforth, Gabrielle Moore, Helen McMillan, Joyce Collett and Gill Prescott.
Full results can be found on the www.eirc.org.uk website.