Two of the most able young scullers from Durham Amateur Rowing Club attended early identification trials for the national rowing squad on February 21st.
The two 16 year-olds took part in trials held in a single scull over a 5000 metre head course at Boston, Lincolnshire. Both did very well and have now been called upon to attend a crew sculling course at Nottingham in April. Both events are part of the performance pathway towards GB Junior Squad representation in 2016/17.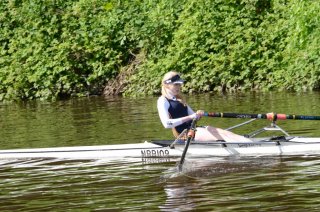 Aidan Rushforth, accompanied by his father Peter, finished 3rd out of 43, finishing in 18m 38.6s, less than one second behind the second placed sculler, and Hope Cessford, accompanied by coach Fred Snowdon, finished 8th out of 46 starters in 20m 13.7s. Hope's race was made all the more difficult when the Environment Agency opened sluice gates to release floodwater from the river.
Both scullers went on to attend local trials for the Northern regional team to compete at the Junior Inter Regional Regatta at Nottingham on April 25th, and each won their respective races.