With the festive season almost over, the schools on holiday and still a month to go before Durham Small Boats Head on February 7th the Chairman came up with the bright idea of ringing in the New Year with a closed Club regatta in the form of a time trial on the long course. A very informal event it was to be, but with around 80 members turning up on the designated Sunday morning it was decided that a series of side by side 8+ races for the senior members, with quad races for the younger juniors, would be a more sensible option, as well as being great fun.
Names were drawn out of a hat and crews duly allocated to ensure a fair mix of ability and experience in each. With the diversity of membership and ages ranging from 16 to 75 it had the added advantage of enabling those from different backgrounds to become better acquainted with one another.
Seven 8+s and five 4x+s set off for Baths Bridge to commence friendly hostilities over a 500 metre upstream course with the eventual winners of the knockout eights competition being the Captain's crew.
Blessed with fine weather the only competition for river space came from the regular Sunday morning dragonboaters who were kind enough to pull in to allow the races free passage. Hot soup and jacket potatoes in the bar rounded off a frosty morning in fine style.
With nothing but positive feedback this could well become a regular event.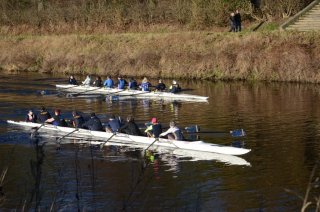 More photos on facebook.