The 2014 Great Tyne Row took place on September 20th with a record entry of 34 from all over the UK. The event is a 25km row along the Tyne from Newburn to Tynemouth and attracts a variety of craft including fixed-seat coastal skiffs, stable quads and doubles and for the first time a dragon boat.
It is intended as a fun occasion and a challenge for rowers at the less competitive end of the scale. In keeping with the spirit of the occasion many crews take part in fancy dress, with prizes on offer for the best decorated crew and boat.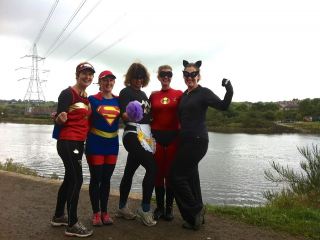 Crews set off in divisions with the slowest going first in the hope that all will arrive at the finish together. As it turned out the degree of togetherness was far greater than anyone could have foreseen!
DARC entered 3 crews, covering all bases with a women's quad, a mixed four and an open double. All entries have to be in stable boats and have to be coxed. The number of possible entries is constrained only by the number of suitable boats available.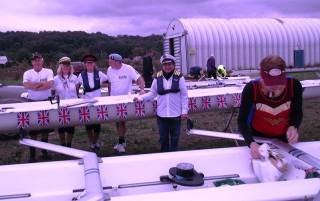 Despite months of preparation and training none of us went with any particular goal in mind other than that of completing the course and perhaps posting a respectable time. The women's masters crew (Joyce, Sarah, Jacki, Angela and Louise) succeeded in keeping their superheroes costumes under wraps until the last possible moment until Supergirl, Wonder Woman and others emerged from Sarah's Bongo. Meanwhile Gerry's Dynasaurs crew (along with Dave, Gene, Debbie and Brian), 3 of whom were taking part for the second year running, retired to the pub to refuel in readiness for their outing. Colin, Roger and Vaughan were first to set off, launching the Dun Cow from the steps at Tyne United Rowing Club and lining up next to the
Three River Serpents
dragonboat with Clive at the helm.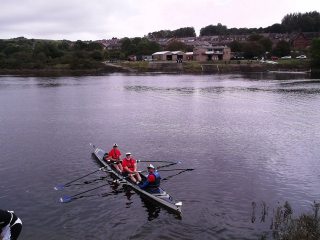 With its 14 paddlers the dragonboat quickly established a lead, followed by the Hanningfield skiff from North Berwick and we settled into 3rd where we were to remain for the next 20km. Our two planned 'on the water' crew changeovers worked a treat and all the time spent practising the interchange of bow, cox and stroke on the Wear paid off!
Twenty minutes later the mixed four was setting off suitably kitted out in military attire in support of the SSAFA charity. After another 10 minutes the women's quad followed. This time it was Sarah's turn to crawl along the stern to untangle a log from the rudder, following Brian's heroics last year. Jacki and Sarah were later to carry out an interchange of cox and stroke which I understand was elegant as well as speedy!
Roger, recently recovered from heart surgery, takes up the story…
The outcome was open heart surgery in January 2014 during which I acquired an aortic valve from a pig and two arterial by-passes using spare parts from my left leg. I am in awe of modern surgical techniques.

My next offer was to fill a vacant seat in a coxed double for the 2014 Great Tyne Row with Colin and Vaughan, two of my 'League' crewmates. I said "YES!"

Training began in earnest, not the least part of which was practising swapping places in the boat by climbing over each other, while on the water. Firstly, cox to bow, bow to stroke and stroke to cox, and secondly just cox and stroke. These practise sessions caused great hilarity for those on the bank witnessing our strange antics.

Entries in and paid for, Vaughan suggested we raise funds for British Heart Foundation 'in my honour' and posters were duly printed, sailor hats and T-shirts acquired and we felt we looked like a crew.

Saturday September 20 2014 –

My wife (Andrea) and I set off for Newburn at 9.00am. The weather had been miserable all week, but the Met Office promised better for Saturday 20th September, the Big Day, so in spite of early mist and drizzle, it had faired up by late morning and was clear and mild for our start on the ebb tide at 2.30pm. Meanwhile we had unloaded the boats. Three Durham crews entered, ourselves as 'Three into Two will Row', a ladies crew 'Wear Together' dressed as Superheroines, Super Mum, Super Girl, Super Woman, Cat Woman and Elastigirl (from the Incredibles), and mixed crew DARC Dynasaurs themed as Officers and Gentlemen (and Gentlewomen) with a Tom Cruise lookalike as Cox.

We lined up alongside a Dragon Boat (with fourteen oars), three St Ayles coastal skiffs, and a Hanningfield Lake skiff (odd, this one – 3 rowers, stroke and bow with sweep oars and a sculler in the middle). We felt a trifle overwhelmed in our little double sculler, but when given "GO!" we surprised ourselves by holding our own against them all. The Dragon Boat gradually pulled away followed by the Hanningfield, but we held on, opening up a huge gap between us and the other skiffs.

We were going well and were lying 4th in the running order having just been overtaken by the fast St Ayles skiff when at about the 20km mark a River Police launch pulled us up and stopped the race because the DFDS Amsterdam Ferry was coming in!

I was tired, people were leaving, it was dark, and I couldn't find Colin or Vaughan, or Andrea. I was still in my wet rowing kit, tired, feet soaked; I wanted a beer and one of those delicious smelling hamburgers but my money was locked in the car back in the car park, I just couldn't be bothered to walk up there and back again. I found Andrea near the beach;
All the DARC crews arrived safely on the beach at Tynemouth to join the merry throng. Because of the unscheduled delay the finishing order and timings aren't very meaningful. Only the dragonboat was given a time for the full course – times for all other finishers are relative to the finish time of the second crew, but this in no way detracts from the success of the day or the satisfaction gained by participants.
Photos of the day by Al Johnston are on British Rowing's facebook page. Further news reports can be found on the British Rowing and North East Rowing websites along with more photos.
Thanks must go to Dave for volunteering to tow the trailer and, along with Sarah, to provide transport to get us to the start and back from the finish. Also thanks to Andrea for providing mobile support on the day, and to the many other helpers and supporters who made it all possible. A total of £2364 was raised through sponsorship and was divided between Grove House (Children's charity), SSAFA (Sailors, Servicemen, Airforce and Families Association) and the British Heart Foundation.
Next year's Great Tyne Row is scheduled to take place on Saturday, September 6th 2015.