Round 7, the penultimate round of this year's Sunday League took place in fine conditions at Tyne RC on September 7th 2014 coinciding with another notable event on Tyneside, the Great North Run. Vaughan's first outing driving the minibus went without a hitch with us taking a scenic route via the Derwent Valley to be sure of avoiding possible traffic delays.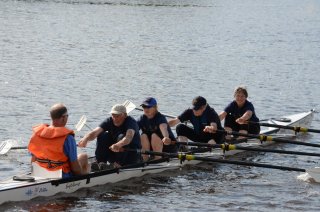 With the season reaching its climax there were mixed fortunes for DARC with depleted teams meaning resources stretched to the limit, but it was a day of triumph for Darc'n'Dandy. A certain amount of team juggling was necessary due to illness, holidays and Carol and Mark from Darc Delight being away at the Para Rowing camp in London, so we were able to demonstrate our resourcefulness, with members of other teams taking turns to fill the vacancy, and the Dynasaurs borrowing Jan for the day to augment their team of three.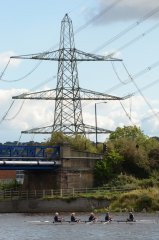 It was a good day for Tyne RC who took most of the plaudits with their two regular crews demonstrating their sculling prowess, taking 4 wins apiece to ease Tees aside and move into overall lead in both the Open and Women's categories. Their 2 novice teams also gained 4 and 3 points on their maiden outings. For DARC it was another successful day for Darc'n'Dandy who also secured 4 wins to follow up the 4 gained at Tynemouth in July, seeing them make a late surge into 4th place in the overall table, a point behind Tees and previous leaders the Dynasaurs, who themselves won 2 races but are now on half points due to exceeding their quota of 6 team members for the season. DarcErr won 2 and the Demons 1. Thanks to Caroline for doing most of the coxing, ably supported by Rose, Kate, John and Ann. Hospitality again was first class and a fun time was had by all (ice bucket challenges included!).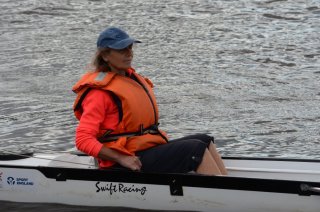 The Open competition is set for a thrilling finale at DARC on October 5th – a sweep event – with the top 4, including two DARC teams, separated by only 2 points and the outcome still in the balance. The Women's competition is more clear-cut with 2 remaining title contenders, Tyne leading Tees by 1 point.
Festivities
are planned at the conclusion of the event on October 5th!
We have a busy time before then with the Great Tyne Row on September 20th and Durham Autumn Sprint on September 27th.
See Northern Rowing's facebook page for photos and current scores and catch up with reports from earlier rounds of the competition.