Latest from the National Championships – Alan Granlund describes a silver medal and some 'oh so close' photo finishes ..
SILVER Medal for Aidan Rushforth in MJ141x
Aidan coached by his father Peter with guidance from Bill Parker, is unbeaten so far this season, and rowed very well in a field of 30 scullers to take a very deserved SILVER Medal. In the final Aidan and a Scottish sculler broke away from the rest of the field early in the race, and the Scottish Sculler held onto a one length lead for the rest of the course.
4th Place
MJ164+ Robbie Lyons, Matthew Abbiss, Jamie Patterson, Richard Matthewson Cox Elise Sanderson
finishing only a length from a Bronze medal .
4th Place
MJ182-
'A' boat Thomas Jackson and Cameron Cutts, in a field of 12 and failing narrowly to qualify directly from the heat, progressed to the repechage together with the 'B' boat of Elliot Kay and Roger Dunn. Thomas and Cameron took the front from the word go and finished in that position progressing to the final. Roger and Elliot missed out on a final qualifying place.
In the final a 'charge' from Thomas and Cameron from 500m out was one stroke short of a medal and after a photo finish came 4th by 2/10s of a second.
WJ164x-
Lauren McMillan, Jessica Harris, Carina Sowerby and Katie McDaid qualified directly for the final avoiding the repechage, in the final the crew sculled most of the course in a bronze medal position and in the last 500m looked to be challenging for Silver, but a last 500m sprint by 4th placed York edged the girls out of the Bronze Medal by again 2/10s second in another photo finish.
And it's been an outstanding season for the Juniors.
Winning Crews
The juniors have to date won 95 events from singles to eights (15 wins in eights). Durham Regatta was a particular success with 10 wins ( 6 in Eights). We managed to get every junior who entered onto the winners rostrum at least once. Most successful boy has 17 wins and at least 10 boys are well into double figure wins.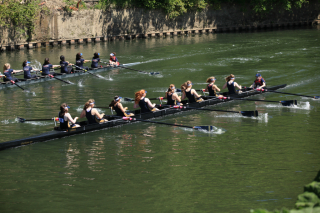 J15 Girls have been successful in WJ15 events, WJ16 Events a WJ18 event and two senior wins. Unfortunately there is no event at the National Junior Championships.
Our National Championship entries were MJ182-, Mj182-, Mj164+ Mj141x and a WJ164x- on 20th and 21st July.
Fundraising for a new boat
The Juniors have also been busy fundraising. In addition to the "Pieces of 8 Campaign" activities have included a Band Night, the sale of Regatta Photos, second hand book sales, and a Sainsburys Bag Pack. The total raised so far £3500 towards new boat. The juniors are already discussing a Boston Marathon sponsored row.
Names for the new boats
Offers have been received from Stuart Eddie to call the boat, or boats, after daughters 'Jessica Eddie' (our 2008 & 2012 Olympian) and 'Alex Eddie'. The two girls were our most successful juniors and a (three figure offer) has been made. There are one or two other interested parties, but no firm offers as yet.
Ageing boats
We have over 40 in the J15+ squad and are just about managing for oars and sculls. The new 8 was urgently needed with crews in WJ15/16 and we will have enough boys to run equivalent of 2 x J18 Eights next season. The aim is Schools Head with 3 competitive junior eights.
DARC Choc and DARC Secret 2x's are now almost 20 years old and whilst they have lasted well and proved Janousek boats are long lasting they are the club workhorses with crews from J12 using them up to J18 and some senior crews. We need to give some thought to replacements before they fall apart. I will also stick my neck out and offer another fundraising bout if we can get the go ahead.
The Future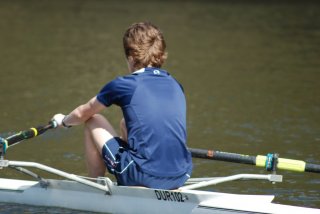 We now have at least 5 boys who can satisfy the qualifying ergometer (rowing machine) time and another two likely to also do so, I would like to give them the opportunity to trial for GB this Autumn, to this end they will require use of single sculls for the early talent identification trial and I have applied (at the 11th hour) to Northern Rowing Council for two Singles for next season, we may need to beg or borrow others for the trial.
Thanks to many people who have assisted the junior coaches, Vicki Jackson for 'spotting' services, Peter Rushforth, for services to coaching and trailer towing, Daemon and Carole Sanderson for minibus driving, Keely Kay, The Matthewson's, the Wilkinson's for supporting the social side, Allan Wilkinson for rowing photography.