11th and 12th May 2013
 
Durham City Regatta is the first of three popular regattas held in Durham. It is a two day regatta which regularly boats around 250 entries on Saturday and approaching 200 entries on Sunday. In addition to the 700 metre course that runs on both Saturday and Sunday, more experienced competitors can also take part in the 1800m time trials on Sunday. Entries for this regatta range from school age through the senior categories.
Saturday – 700m down stream race with a Stake Boat Start
Sunday – 1800m Time trials over the long course – downstream – rolling start (Division 1)
Sunday – 700m down stream race Stake Boat Start (Divisions 2 & 3)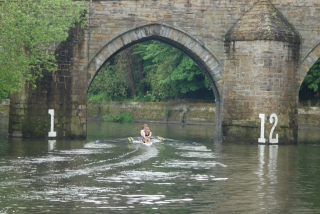 This event is particularly popular with the local University/Colleges because it gives them a chance to race against each other without the complex logistics of having to arrange to travel long distances to other events. In particular you will find very keen competition at novice and Intermediate 2 & 3 levels where many recreational college competitors fight out long standing rivalries between Durham's ancient colleges.
Entries can be made via British Rowing Online Entries.