Durham ARC women's squad caters for all levels of rowing, from complete beginner to experienced oarswomen. Current members include students, former students and local people ranging in age from early 20s to late 60s. Our levels of expertise range from novice to elite in both rowing and sculling. In addition to rowing in fours, eights and quads, the club also has a number of single and double sculling boats.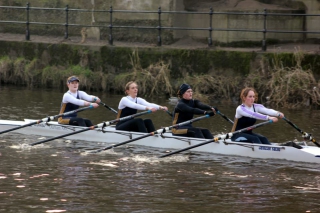 Novice and Senior rowers are trained by our team of coaches, and compete at all levels. Crews compete locally, regionally and nationally including The Women's Head of the River Race on The Thames.
Training and crews are determined by the level of commitment of the individual oarswoman, and crews compete at a level appropriate to that. In addition to water sessions at weekends and evenings, land training such as circuits and regular ergo sessions are also encouraged.
Alternatively, if you simply want to row 'for fun' you may be interested in joining our Recreational Squad.
New members are always encouraged, both rowers, scullers and coxes. For more information contact Club Vice-Captain, Meghan McCarthy, at womens-vc@durham-arc.org.uk.