Durham ARC women's squad caters for all levels of rowing, from complete beginner to experienced oarswomen. Current members come from all backgrounds and all ages from 18 upwards (with no upper limit !). Our levels of expertise range from novice to elite in both rowing and sculling. In addition to rowing in fours, eights, coxed and coxless quads, the club also has a number of single and double sculling boats.
The women's squad includes the Senior women's squad (mostly aged 18 to 27), coached by Phill Tully. The Masters women's squad is coached by our club coach Debbie Connolly and our volunteer and very experienced coaches John Lund and Lynn Pain, and we have a high performance crew coached by Geoff Graham. Our Recreational (aka Off Peak) rowers, many of whom compete in the region's Sunday League, are coached by Caroline Scholl and Richard Castling. All sections have several crews which compete locally and the Masters and Senior women also compete regionally and nationally, including in The Women's Head of the River Race on the Thames. Some members compete in National and International Championships, and some (including Gill Prescott) have brought home National and International Championship medals as well as Indoor Rowing Championship medals.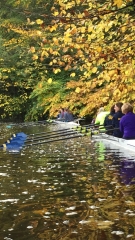 Training and crews are determined by both skill level and the level of commitment of the individual oarswoman. In addition to water sessions at weekends and evenings, land training such as circuits and regular ergo sessions are encouraged.
New members, rowers, scullers and coxes, are always encouraged. For more information contact Club Vice-Captain, Alison Danforth, at womens-vc@durham-arc.org.uk.