Durham Amateur Rowing Club aims to provide access to the sport for all. Whilst the club is very competitive and successful we also have a thriving recreational rowing squad. Recreational rowers meet on Sunday and Wednesday afternoons, and Monday and Thursday mornings.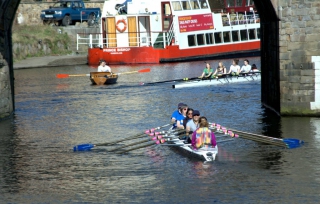 Numbers have increased steadily since the launch of the British Rowing Explore Rowing programme in 2010, and the acquisition of a fleet of stable boats. These boats have been used to run the Learn to Row courses.
Many course graduates have joined the recreational group and gone on to help run subsequent courses.
With coaching and experience members can progress to finer boats, or upgrade their membership to full racing status, but the recreational emphasis is more on exercise and having fun in glorious surroundings than on competitive rowing.
An element of competition can, however, be arranged for those so inclined. Meanwhile members also have the opportunity to engage in regular and varied social activities.
Events and social activities
Members are also very active in providing the catering service at events and regattas.
The Sunday League competition was introduced by the Northern Rowing Council in 2012.  This is aimed principally at non-racing rowers who are new to the sport, and is an ideal opportunity for members of the recreational squad to gain experience of competitive rowing and to get out and about to other clubs in the region.
st
2012.
Five crews entered from DARC with some initial trepidation and limited success. The opposition was provided by Chester-le-Street, Hexham and Tees Rowing Clubs.
Since then the league has gone on to become a firm favourite with rounds taking place each month during the summer.
The round scheduled at Hexham in August failed to survive the weather and was abandoned. A total of 25 crews took part over the course of the season with Talkin Tarn and Hollingworth Lake joining in later rounds.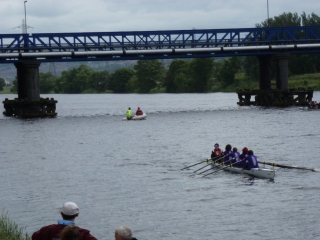 Each round consists of a series of races on a round robin basis with the draw taking place on the day of the event. The boats used are the stable coxed quads acquired by each club under the Explore Rowing programme thereby making it suitable for novices.

The series proved to be hugely successful and was greatly enjoyed by all those involved. Such was the interest that for 2013 two extra rounds have been added at Chester-le-Street and Talkin Tarn with the inclusion of a mixture of sweep and sculling formats and tests of manoeuvrability skills.

In October 2012 members organised a scratch regatta at DARC using the Club's stable quads.  Five crews were drawn to take part in races over a short course on a round robin basis, followed by lunch in the bar. It is hoped to make this a regular feature.

visit

to Tees Rowing Club took place in October 2012 where 10 recreational rowers from DARC were invited to join the Tees 'Wrecks', borrowing their stable boats to navigate the long distance sculling course before enjoying their hospitality. The favour was returned the following month with Tees' visit to DARC for rowing and lunch. Further outings are planned, and we hope to venture further afield; so far visits to Washington (Tyne & Wear), Stourport and Warrington have been proposed.