The family of Allan Pratt have reported his death in Nottinghamshire at the age of 94 on August 15th 2019.
Allan was a civil engineer by profession and served as Chairman of Durham ARC between 1965 and 1971, during which time he was one of the driving forces behind the relocation of the Club's facilities from what is now St Leonard's boathouse to the current premises.
Although a decision had been made by the Club in 1960 to relocate the premises, planning approval was not granted until 1966, after which Allan devised and costed a plan for the project to construct the new boatstore and landing stage with much of the labour being carried out voluntarily by Club members.
Allan moved away to London in 1970 and then to Newark to continue his career, becoming a Director of Hoveringham Gravel and also becoming a long-serving member of Newark Rowing Club.
Duncan Lomas and John Burns continued to progress work on the new premises, and after a final push the building project was effectively completed and the bar officially opened for business on Wednesday December 22nd 1971.
Allan leaves a widow Rosemary, sons Nigel Price and Graham Price, and 5 grandchildren. Son Nigel, a member of Newark Rowing Club, said of his father's time at Durham, "Although his days at Durham represented a small part of his life in terms of years, they remained large in terms of their influence on him and he often reminisced about his weekends digging trenches, mixing concrete and having a beer in the Dun Cow. He was always proud of his silver salver with "Chairman and Boathouse Builder Extraordinary" engraved upon it."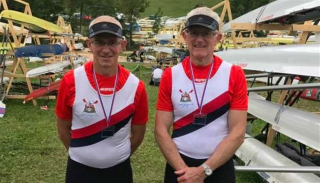 A funeral service will be held at Sherwood Forest Crematorium, Ollerton on Tuesday 27th August at 1.30pm followed by a celebration of Allan's life at Newark Rowing Club from 3.00 pm. Family flowers only please. If desired donations in memory of Allan for The Gurkha Welfare Trust may be sent to E Gill & Sons Ltd or made online at
www.egillandsons.co.uk