Durham ARC had 3 entries in the Vesta Veterans' Head of the River Race on the Thames on Sunday March 26th, the annual Eights race for Masters which traditionally falls the day after the Head of the River Race (HoRR). The lack of DARC entries in either the Women's Head or the HoRR and late cancellation of the HoRR this year because of windy conditions provided extra incentive. The DARC entries included a Masters F composite with Upper Thames, a Women's Masters E 8+ and a Women's Masters Novice E 8+.
Raced over the Championship course from Putney to Mortlake the Veterans' Head was first staged in 1983 when the main Head of the River Race became too popular to accommodate both senior and veteran rowers. This year's event attracted 235 entries including 32 from overseas. The three DARC Eights boated from Cygnet RC near Barnes Bridge ready for the 11am start.
For the more experienced crews it was familiar territory but for the novices it was their first outing on the Tideway. In good conditions the Masters F Eight posted a time of 14.33.9 (adjusted to 13.12.9), finishing 44th overall and 3rd in their age category. The Women's Masters E Eight (pictured below) finished 190th overall and 6th in their category in 16.08.33 (adjusted to 15.05.33).
The Novice crew (above) comprising Aisling Dutton, Nicola Field, Julie Kitson, Clare Staines, Ray Dominy, Steph Snowball, Vickie Jackson and Linda Forwood, and coxed by Caroline Scholl, was last to start as number 234 and improved their position to finish 227th in 17.12.74. Julie decided to use the occasion to raise money for the Myotubular Trust charity that her employer is supporting this year. Funds raised have risen to over £1,000.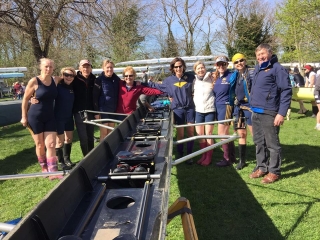 See Vesta website for full results.