By fortunate coincidence round 2 of the Explore Series fell this year on the same day as the Boat Races. April 2nd dawned sunny and warm, the day after DARC's Boat Race Ball. The discovery of an unexploded World War 2 bomb near Putney Bridge cast doubt over whether the Boat Races could go ahead, cancellation would have put paid to the planned party and screening of the races, but fears proved unfounded and all went according to plan.
This was the first sweep-oared round of the season, the format alternating between sweep-oar and sculling each month. An early start at 11am and a buoyed 250m course, modified from that of previous years to finish nearer the landing stage, along with some expert organisation, enabled the 38 scheduled races to be completed within a 4-hour window. Boating 4 crews at a time from the extended landing stage speeded up circulation and kept the volunteers and near record entry of 19 crews busy.
The Explore Series is a simple and exciting format where relative newcomers can experience some safe and close racing in stable coxed fours or quads, with an opportunity for visiting crews to enjoy different surroundings, meet old friends and make new ones. With Berwick and Gateshead making their first visit to the competition in Durham the standard of racing continues to impress. Honours in the Open league were shared between Hextraordinary representing Hexham and Barcing Mad from Berwick with 4 wins each, while in the Women's competition there were 4 wins for A Shot in the Darc from Durham as well as for Wine on the Tyne from Tyne ARC and Gateshead Goldstars from Gateshead CRC.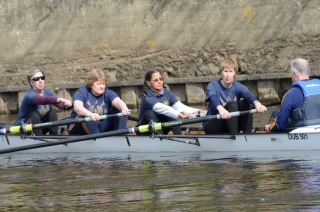 A Shot in the Darc (Sue Lyons, Sonny Shepherd, Jane Auster, Kalpana Ganatra and Margaret Richardson, coxed by John Lyons) were delighted with their second successive maximum points haul enabling them to retain overall leadership of their league with 14 points. DARC's Open crew Wear Well Away (Colin Lawson, Vaughan Gordon, Steve Auster, Chris Merchant and Dave Green) picked up 3 wins and there was a win apiece for Green Shoots (Zuzanna Zwirad, Paddy Deans, Linda James and Maureen Miller, coxed by Ken Gardner) and Out of Darcness (Louise Forster, Geoff Raw, Andrew Fisk and Stewart Allan, coxed by Gerry King and Dave Green). Hexham lead the Open competition also with a maximum 14 points after 2 rounds.
A tea of pork sandwiches and refreshments from the bar whet the appetite for those who hadn't seen enough racing for the day who stayed to watch the screening of the Boat Races in the clubhouse, the Cambridge women and Oxford men taking victory.
Round 3 of the Explore Series is at Berwick on May 7th.