Durham Small Boats Head took place on February 4th 2017 in calm conditions with spells of winter sunshine, the rising river level after overnight rain making the afternoon divisions more challenging. A busy day ensued with a full entry in all 4 divisions and 370 crews and scullers completing the course, with no reported incidents.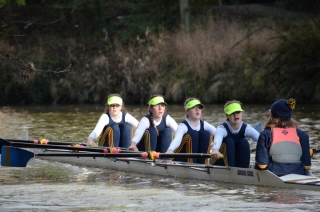 St Leonards was the overall winner of the head with their J18 coxless quad clocking 6.06.7 for the 1800m course.
Durham ARC's senior women's Elite coxless quad was the fastest women's crew. Aidan Rushforth was the fastest single sculler for St Leonards, 0.1 sec ahead of Talkin Tarn. St Leonards also taking the fastest double sculls award. Gill Prescott and Eva Rankin won the fastest women's double sculls award for Durham ARC.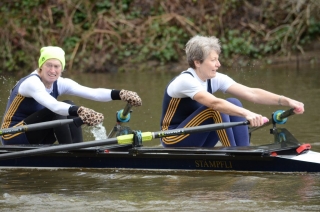 Durham ARC was the most successful club with wins in 17 events spread across the board, the Junior girls winning WJ15 quad and four, women's J15 double and women's J14 quad, Seniors claiming 6 wins (IM2 coxless quad, Elite coxless four, women's Elite coxless quad, women's IM2 double, women's IM2 single sculls and women's Novice coxed quad), and Masters winning 7 events (Masters C and E coxless quads, E coxed four, G double and single sculls, women's masters E double and women's masters F single sculls).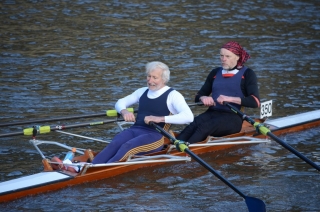 George Heriots School and Chester-le-Street were well represented with 7 wins each, Heriots taking the fastest women's pair and Chester-le-Street having the fastest women's single sculler as well as providing both joint winners of the Elite pair. Hatfield was the most successful College with 3 wins including the IM3 coxed four. Durham School won the Novice coxed four and Collingwood College the women's novice four.
The overall results are on DARC website (and XLS), list of Durham ARC wins here and photos here.