Durham ARC entered 15 crews in this year's Tees Regatta on Saturday May 16th, comparable with the 17 entries at Chester-le-Street on April 18th but well down on the 49 entered for last week's cancelled day at Durham City Regatta.
Tees is the third of the scheduled annual regattas in the Northern region and takes place on a 4-lane 850 metre buoyed course between the Tees Barrage and the River Tees Watersports Centre, passing under the Infinity Bridge.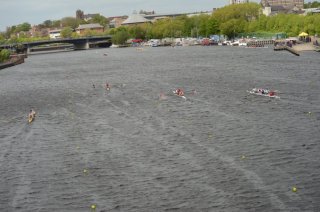 Racing got underway on a bright but blustery day, the strong headwind making conditions difficult for competitors and officials, with 155 races over a 9-hour period.
There were 7 wins for DARC, four of them from the Juniors squad – Matthew Abbiss and James Snowball in the J18 pair, Matthew Edge, Aidan Crilley, Matthew Skinner, Harry Coe and cox Molly Coe in the J15 coxed quad, Carina Sowerby, Lauren McMillan, Olivia Brown and Katie McDaid in the Women's J18 coxless quad, and Tim Hopper and Harry Ward in the Novice double.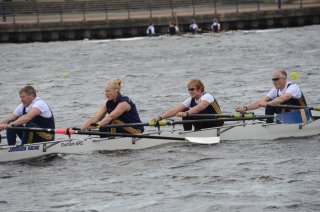 The Senior Women's crew of Fe Ashton, Claire Adams, Becky Ward, Rebecca Wallace and cox Emily West (pictured top) secured victory in the Women's IM3 coxed 4. The Masters squad had wins with Gill Prescott and a Berwick RC composite in the Women's Masters C coxless quad, and a Masters E crew including John and Angela Lund won the Mixed Masters eight.
Full results are here.
Photos from Northern Rowing