Last Saturday saw the start of the autumn racing season for local rowing clubs. The Long Distance Sculling (LDS) Series consists of five time-trial races spaced over six weekends held at five different clubs, South Hylton, Tees, Tyne, Durham and ending at Cambois. The boats taking part are single, double and quadruple sculls. Durham ARC sent nine crews to the first race and contrary to the poor weather forecast conditions for the race on the Wear were good.
The J18 boys in their coxless quad had an excellent row, achieving the fastest time of the day and so making them the overall winners.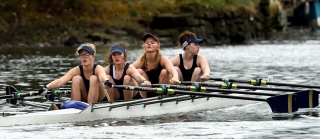 The J18 boys also entered a double scull that won their event too. Not to be outdone, the J18 girls put down the fastest time for a women's crew and won their event. These two results show how strong the top of the junior section at the club is at the moment. The other winning Durham ARC crew was the Masters D double scull of Helen McMillan and Gill Prescott who were the fastest women's double scull, no mean achievement when racing much younger crews; on an age corrected time they were the fastest of all the women's boats.
So it was a very successful start to the series for the Durham club, on to Tees for the next race.
Photos courtesy of Al Johnston.
Download the South Hylton results