…their verdict
We are all very new to the sport and are continually striving for improvement. In the limited time we have been here we have received much support and encouragement and thus far it has been an enjoyable ride. Anything to help us become more integrated with the rest of the club would be greatly appreciated. Here are some of our stories.
John first heard about the Explore Rowing course at Durham Amateur Rowing Club two years ago, he had been suffering from lower back pain for over 20 years, and his intake of painkillers was steadily increasing. He was diabetic and had high cholesterol levels. Even though John doubted that he would be able to manage such a strenuous activity, he decided to give rowing a try …
The benefits of regular rowing have transformed my life. My back is strengthened and I no longer need painkillers. The diabetes and cholesterol are under control without the need for medication, and my social life – and mental health – are greatly improved. The decision to give rowing a try, has opened up a marvellous new chapter in our lives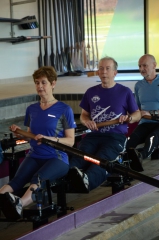 Joyce was stressed and tired with the daily grind of work, had lost interest in going to the gym, and needed a fun activity to re-charge her batteries and get herself fit …
I now find the exhilaration of a good row, with a friendly crew and  motivational coxswain hard to resist, and am happy to row 3 or 4 times a week. I still experience some stress but it's more about the conditions of the river and whether I'll be able to get out on the water or not .. I have dropped a dress size, sleep like a log, and have so much energy. The club provides the opportunity to make new friends, take on voluntary activities and to feel part of a warm community.. it's a fantastic way to increase both your physical and mental well being.
Shirley, following a major car accident in 1977, had ongoing deteriorating back problems, needing major back surgery in 2000 and in 2010. In 2012 after taking early retirement she was in constant pain, needing increasing pain relief and was at the "end of her tether". Shirley signed up for a learn to row course in May 2012 but had concerns that there wouldn't be "a hope in hell" of sitting in a boat…
Initially, I could barely get in the boat and had to be dragged out! My flexibility was so poor I could only reach ½ slide. However, the craic was good, the people welcoming and friendly and I loved being able to do some exercise, however limited … so where am I, I 8 months on … I can reach full slide with ease, I'm still not comfortable at 'easy oars' but I can cope better and we rarely stop and sit still anyway! I rowed throughout the winter in rain, sleet, and snow. I took part in my first Sunday League regatta. I am now a leaner, fitter, rowing machine with (according to my doctor) the blood pressure of a 19year old.
After initial misgivings Colin is still here…
Caroline organizes us wonderfully and is always so welcoming with her lovely smile, encouraging us no end with her contagious laughter, but she must be fed up to the back teeth co-ordinating the motley bunch of pensioners who insist on turning up in wellies on midwinter mornings demanding to go out in boats when they ought to be tucked up at home in bed.

Outings never fail to lift the spirits. Before we even get as far as the river there's the daily boatlifting ritual which is always great fun and good exercise in its own right with us being assigned the heaviest boats that the club can muster. During my time we have been fortunate to be aided by a series of experienced coaches, all of whom have been brilliant. After our trip out we like to retire to the bar and huddle together drinking lots of coffee whilst hatching cunning training plans which I can't divulge here lest they be intercepted by members of rival clubs.

The turning point came when we were asked to volunteer to take part in a regatta that had been organized one Sunday in April 2012 so I put my name forward and turned up on the appointed day to discover a throng of people in colourful attire who I had never seen before, but who appeared to know what they were doing.




Away from the competitive side of things it soon became evident that joining the squad can lead to all manner of opportunities I had never envisaged. Having volunteered to help out with Durham Regatta I found myself becoming engrossed to the point where it completely slipped my mind that I had to leave to catch a transatlantic flight. As well as assisting at rowing events I've so far become involved with activities ranging from tree surgery to website maintenance. Among other things the recreational rowers also do DIY, catering and cocktails, creating labour-saving devices, designing trophies, plumbing, painting and administration so there's never a dull moment.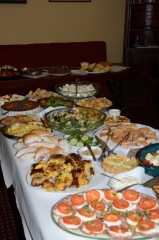 Gene is a regular volunteer in the kitchen and she has used her time there wisely to also prepare some healthy performance-enhancing
recipes
with a rowing theme, some of which she has been kind enough to share. These have already been tested to good effect on the rec rowers.
The DARC influence has spread far and wide. Read Joyce's sister's account of how she was inspired to take up rowing.