The first round of the 2014 Sunday League took place at Hexham on March 2nd with DARC entering 6 crews drawn from the Recreational and Development groups. After the winter break it was great to get back into competitive action once more and to renew acquaintances with friends from other clubs. At this time of year it's always pleasing to witness the number of new competitors from all clubs making their debut appearance, including 2 of our Recreational rowers and 2 from Development, as well as several rearranged crews.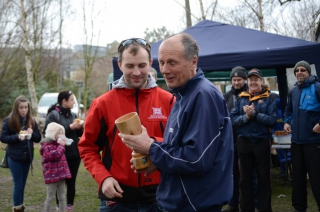 The lighter entertainment commenced before racing got underway, with the returning Bradford Aireheads satisfying the organisers that they had succeeded in 'losing' one of the 7 nominated members of their permitted 6-man contingent en route and so avoided falling foul of the rules and having to compete for only half points. The newly engraved trophy was duly presented to last years Open winners Forever Wreck from Tees, not defending their title this time but combining their resources into 2 new crews.
DARC couldn't have got off to a better start, picking teams A and B in the draw and thereby guaranteeing victory in the first race, a baptism of fire and instant success for 2 of the new crew members. Sadly the revelation was to be short lived when they came up against a strong Hexham crew – the Four Oarsmen of the Apocalypse – in the next round.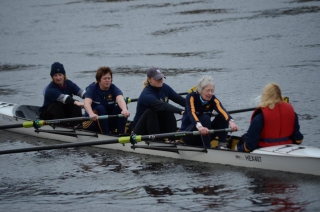 Another excellent days racing concluded with every DARC crew securing wins and a total haul of 11 points, the best performances being from the Dynasaurs and We'ar Winners in joint 2
nd
place on 3 points in the Open and Women's categories respectively.
Gerry sums up the day on behalf of the Dynasaurs
Hi to the crews who took up the challenge at Hexham on Sunday 2nd. Speaking as a crew member of the Dynasaurs I enjoyed the day outstandingly, plus the banter with the other crews. I would like to thank Mick for joining the crew at the last moment, well done to all the crews from DARC…and sorry Jan had to drop out due to an injury…

Can I just put Hexham to one side and talk about a great book to read about rowing. It's called The Boys in the Boat, based on a true story. Give it a try, you will not be disappointed. The author is Daniel James Brown. An odd tear might find a way on to a page or two…

Looking forward to our next challenge at Tyne United.

Kind regards to you all. Up the Dynasaurs!

Backstops.

Gerry.
Thanks for the insight and recommendation Gerry.
For a full report on the days proceedings see the North East Rowing website, Northern Rowing's photos and the current standings.
Further media focus can be found in the British Rowing news pages.