April 6th saw the League move on to Tyne United, a sculling event this time. Despite some late changes of personnel bringing some crews up to their quota of 6 by round 2, DARC again entered 3 teams in the Open category and 3 in the Women's.
Fortunes were mixed, with the best performance being by We'ar Winners, living up to their name and taking 4 victories from 4 races to move into the lead in the Women's overall table. The Dynasaurs and Darc'n'Dandy also did well with 2 wins each, helped by some great coxing from Mark and Becca. Progress can be seen in the way that our recreational members are now able to give clubs whose members regularly take part in mainstream regattas a run for their money. Tyne RC again led the way in the Open category. Another pleasing feature was the number of evenly contested races, adding to everyone's enjoyment of an already fabulous day.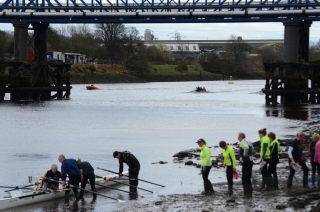 There was a chance to catch up with our friends from Tees for the second time in a week, following the latest of the Wrecks' visits to DARC for lunch and a paddle in our 8+s.
Undaunted by conditions reminiscent of the Somme TURC kept the race schedule ticking over nicely to ensure a prompt finish for those of us wanting to rush home in time to watch the Boat Race. Rapid-fire boating and a very eager starter certainly kept us on our toes. As well as rowing skills being put to the test the outgoing tide requires mastery of the art of rapidly changing footwear, sadly one thing we had omitted to practise in the preceding weeks.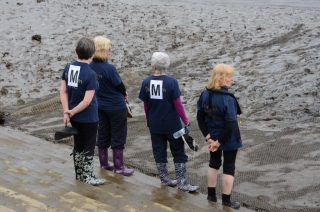 Over to Gerry for his take on the days proceedings…
Hi to all the crews who took up the challenge at Tyne United, another good day for DARC. Dynasaurs did well again, pleased to say, and the banter was good.

Once again can I put Tyne United to one side and mention Stewart who put a lot of hard work into getting the sliders up and working, a great job, I think it shows commitment to DARC from a Rec member. I would like to mention Gene for the hard work that went into the lunch on Thursday 3rd when we had the Tees through for the day. Gene, I liked your war food, it hit the spot, nice one! That's an in-house joke.

Kind Regards to all who took part at Tyne United on Sunday…

PS. Just to mention my favourite rock band The Eagles (Lyin' Eyes).

Up the Dynasaurs!

Frontstops.

Gerry.
The sliders in the boathouse aren't cheap but they certainly ease the strain when lifting boats in and out – the coffee fund being put to good use there!
A roundup of the day will appear on the North East Rowing page and the current standings for the League can be found on the Northern Rowing facebook page.