The powerlifting squad was established at Durham ARC in 2002. They train on Tuesdays, Thursdays and Sundays. The members of the squad make it to the training sessions convenient to them. Some members make it to one, others two and the competitive members make it to all three. The training takes place in the top quality gym at the clubhouse of Durham Amateur Rowing Club at Green Lane , Durham. The equipment and facilities are excellent. The coaching of the squad is undertaken by World, European and National Championship Medal Winners who have British Weightlifting and GBPF coaching Qualifications. Durham ARC Powerlifters are members off the Great Britain Powerlifting Federation – The national governing body of powerlifting.
Membership is open:
If you want to know more or become a member then Make contact send a membership request to durhampowerlifting@hotmail.co.uk
Club Website:
Check out our Club Website..http://sites.google.com/site/durhampowerlifting/
What is Powerlifting:
It involves lifting big weights. The lifts are squat, bench press and deadlift. For more information the best regional site is www.ynepf.co.uk The governing body of powerlifting is Great Britain Powerlifting federation http://www.gbpf.org.uk
At Durham ARC we do a lot more than just lift big Weights:
General Strength Training. We have members who concentrate on using weights in order to improve their general strength. They fall into two groups, those who just want to be fit and strong and those who want to be strong in order to increase their performance in their sport. These are mainly rowers but we do have climbers, footballers and swimmers. Graham is a climber and needs some extra strength as he has to have a go at Everest later this year – he is so pleased to have found the Durham Powerlifters!
Olympic Weightlifting. There are four members who are trying to get better at Olympic Weightlifting(Snatch and Clean+Jerk). Two of them often enter the Regional Championships.They have manged to become Regional Champions and their target is to be British Champions.
Weights for Rowers. All rowers know the importance of having sessions working with big weights included in their land training programme. The expertise of the powerlifters is available to all rowers of the club.
Tone and Trim. There are a few members who use powerlifting as part of their tone and trim regime. By lifting big weights they are using up body energy reserves as well as giving muscles a real workout. Powerlifting and rowing machines are very good fat burning exercises and having a fitness regime that use both of these is one that will work.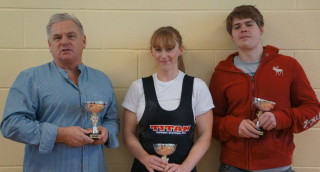 Social. There is a strong social dimension to the powerlifting squad. Not only after training in the bar but also regular evenings on the town. Some of the members like real ale and go for the CAMRA pubs while others prefer the luxury of the Ebony Champagne Bar. There is always the Christmas Dinner – being powerlifters we don't have turkey we have big steaks and chips. We also organise Band Nights down at the clubhouse and we are fortunate to have a squad member in the local punk band ZIPJAM and they contribute to the fundraising of our squad by giving us their time and providing entertaining nights.
Make contact to find out more: durhampowerlifting@hotmail.co.uk
We have five International lifters, six British Champions and nine Regional Champions
The powerlifting squad also run regional benchpress competitions at the Rowing Club. The competitors are from as far away as Berwick and Sheffield. Great events and they are qualifying events for the British Championships.