Hope Cessford of Durham ARC was the northern region's only representative in the Great Britain squad at the World Rowing Junior Championships at Trakai, Lithuania recently. Hope rowed at bow in the junior women's coxless four along with Flo Donald (Lea RC), Mary Wright (Henley RC) and Charlotte Fennell (Marlow RC).
With 17 nations competing in their event the GB four finished second in heat 1 on Thursday August 3rd, behind the eventual champions Croatia, which qualified them automatically for the semi-finals on Saturday along with Romania, USA, China and Poland. Qualifiers from Thursdays heats were joined in the semi-finals by crews progressing from Friday's repechage.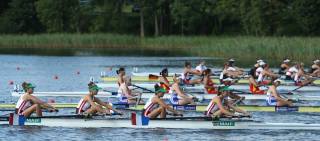 In the second of two semi-finals GB finished 4th behind China and USA, with New Zealand only edging them out by 0.6sec from the 3rd place that would have qualified them for the A final. This put GB into the B final which took place at 7.30am on Sunday 6th.
The GB four won the B final, completing the 2000 metre course in 7.15.38, beating Italy, Greece, France, Germany and the Netherlands, ranking them 7th in the world in the event.
Results of the B final and all finals.
Photos courtesy of FISA.
It was a very successful championships for Great Britain, who finished 2nd in the medal table with two gold, one silver and one bronze medals, as described in British Rowing's report.