The first in a regular series of DARC profiles – a chance to find out more about people in key roles and members of the different squads.
Martin is a local GP,  he rowed at Newcastle University and then with the, now defunct, City Of Newcastle. He's been a member of DARC since 1977, and now rows at 6 in the Masters E/F eight (except when recovering from a dislocated elbow playing 5 a side football.– competitive or what!)
How did you get into rowing?
My mother had been an athlete in Berlin at the start of the war. She injured her ankle and was advised to take up rowing to strengthen it. At the age of 15, I was looking for a sport, Fencing was a disaster for me – even the girls beat me. So my mother suggested rowing.
Proudest rowing moment
Winning the BUSF (British Universities) silver in 1976. We were pipped by UL, with Oxford and Cambridge well behind us. I was rowing at 6 and coming into the finish the stern of UL came back into view, we were coming back fast, but couldn't quite catch them, but after the finish several UL internationals were slumped over their oars …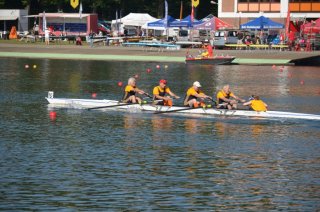 A slightly older Martin, rowing at 2 in the DARC F4, losing out by just .6 of a second at the World Masters at Duisberg in 2012.
And below rowing at 6, winning Henley Masters F eights in 2011.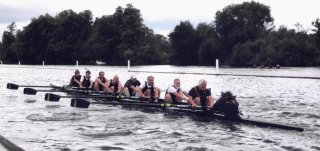 Most embarassing rowing experience
I don't like to talk about it ..
But it would be either ..
During my A levels sculling at York Spring. Coming into Scarborough bridge, I was 5 lengths up .. I clipped the buoy and rolled over.
Or, in the pair, with Dave at Nottingham, in the Semis. The first 2 were to go through to the final. We were ahead at 1800 metres. I was steering, I hit the buoy, the chain wrapped around my oar, the boat spun through 90 degrees, we stopped, and were unable to untangle from it, now we were in 5th. I still wake up sweating, thinking about it. I've never steered the pair since.
Top training tip
Stick at it, miles make champions
If I wasn't rowing I'd be …
getting fat probably
Its panto season so your Genie wish for DARC
… a 2k lake has appeared next to the Club
(Martin you normally get 3 wishes, but I think you've gone a bit overboard on the 1st one, so that's your lot)
How do you see your role as Chairman?
To help guide the Club and help it develop during my term
What can DARC members expect to see from you over the next 2 years
Me rowing at 6 in the eight ..Spending more time down the Club as I retire from work …
I want to help improve facilities, and improve equipment, and maintain the stable financial base
Tell us a rowing joke
You know you are a rower when you start mindlessly obeying all small people
(Thanks Martin, I might need to check that out with Emma)