Durham Amateur Rowing Club is proud to offer the facility of a Certified Location (CL) caravan site registered with the Caravan Club.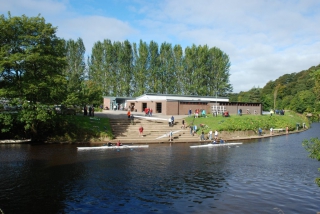 Our facilities have changed significantly after a £1m redevelopment and offers excellent facilities which we are improving and adding to all of the time. Visitors from previous years will fully appreciate the difference from our old facilities.
Further development has enhanced the site for your 2013 visit. We now offer 5 pitches all of which offer single width hard standing bases with grass to the side for your awning. All pitches offer the provision of 16amp electric hook ups to enhance comfort during your stay. Awnings can be used at no extra cost.
Whilst the majority of the works are complete there are still areas of site which are too soft to drive on – this is due to the weather and beyond our control. Extra drainage has been installed and we await the spring to get the grass growing again. Alternative access is available to the hard standings in the event of inclement weather. Please ask for advice on arrival.
Final improvements to the landscaping including new fencing will continue throughout the spring.
The building itself offers a bar, toilets and shower/changing facilities. The clubhouse facilities are available during bar opening hours. As the building is secured with an electronic locking system, if you require access outside of these times simply ask a steward or a club member who will kindly let you in. (Please note that the building hosts an education centre and use of shower and changing facilities may be restricted at some times.)
The building is deadlocked overnight so toilet facilities are NOT available 24 hours
The whole building and site is accessible to all and we welcome children and dogs, but ask they are kept on a lead (the dogs not the children!!). All the normal facilities you would expect (chemical rinse etc) are provided.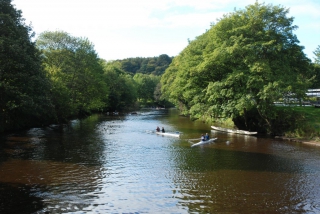 We are situated in Durham City Centre, with the shops, Castle and Cathedral all within a 5-10 minute walk along a pleasant riverside footpath. We own the fishing rights on site and children's play facilities are available within 1/2 mile with playing fields on the adjacent site.
Site fees for 2013 are £10.00 per night inclusive of electricity.
Please note we are an operational rowing club with over 400 members and activity can be expected from 8am, especially at weekends. It is also possible that functions will take place in the clubs facilities during your stay although as a general rule these usually finish before 12 midnight. Visitors are usually still welcome to use the bar during these functions although sometimes i.e. for weddings we might need to restrict usage.
If you expect a quiet, tranquil site in the country then this might not be the one for you, however if you want great facilities in the centre of Durham with plenty going on then you will enjoy your stay with us.
We, along with many other CL's, have suffered very badly in the past with no shows and late cancellations. Reluctantly therefore, following Caravan Club advice, we  now take card payment in full at the time of booking. We apologise for this inconvenience caused by those members amongst us who are less considerate. Cancellations with up to 4 weeks notice will receive a full refund, cancellation within the last 4 weeks receive no refund, although if we manage to re – let the pitches we may offer refunds as a gesture of good will.
As a very popular site, early booking is recommended.
The site is closed several weekends a year due to rowing regattas or events taking place adjacent to our premises.
The closure dates currently known for 2013 are:
Friday 10th, Saturday 11th and Sunday 12th May (Durham City Regatta)
Friday 7th, Saturday 8th and Sunday 9th June (Durham Regatta)
Friday 5th & Saturday 6th July
Friday 12th and Saturday 13th July – Durham Miners Gala
Friday 26th, Saturday 27th and Sunday 28th July – Durham Folk Festival
Wednesday 14th till Tuesday 20th August inclusive
If you would like any further information please give us a call 0191 3866431 or contact Mark Bell (General Manager), Graham Curtis (CL Supervisor) or Barry Hudson (Secretary) on enquiries@durham-arc.org.uk .
---