Three River Serpents
You're Welcome!
Get fit, meet new people, have fun and travel to interesting places while participating in an exhilarating team sport.
Whether you're already fit and looking for a new challenge or looking to get fit and meet like minded people, "The Serpents" can provide the perfect introduction to water sports.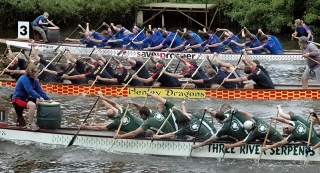 With many of our members having already represented Great Britain in the national squads, The Serpents is a serious crew.  However, many of us have developed by just getting in the boat and having a go.  All are welcome and the squad has members of varying fitness and standards.  Pop down and give it a try.  Then have a look around the club and try the other activities.
If you get hooked on Dragon Boating, race with us in the National League or join us on a trip abroad. Take a longer term view and get into the national squad. The Serpents certainly have the know-how to get you there if you really want to.
Where and When?
Find us at the rowing club most Sunday mornings.
Dress as you would for running or cycling and we'll show you some unique views of Durham, including the Castle and Cathedral.
Get there a little before 10:00 and say hello.  As the evenings get lighter, we'll be there on Wednesdays at 18:30 as well.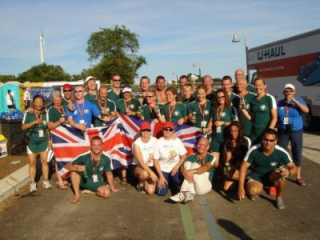 We look forward to seeing you.
Find us here > or visit our website.
Contact the Three River Serpents for further information.